In order to qualify for free delivery you must be based within our pink drop off radius shown on the map. If your delivery address falls outside of this area, please contact us, and we'll advise you if we are able to deliver to your location, and any additional costs involved.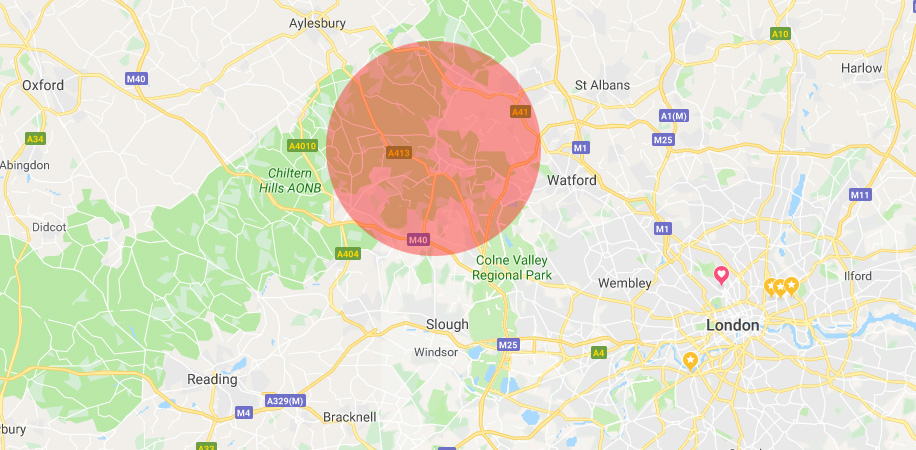 Log Delivery
Delivery of logs in builders sacks are usually kerb-side, however we can place logs in any location you desire, provided we have access with our delivery truck.
Choosing a Delivery Date & Time
If you order your logs or any accessories online you will be asked to choose a delivery date during the checkout phase. Once you are happy with your chosen date, you will then be asked to select a delivery slot. Our typical delivery slots are as follows: 9am-11am, 11am-1pm, 1pm-3pm, 3pm-6pm. On some occasions we are also able to offer evening deliveries and out-of-hours deliverys. To enquire about our out-of-hours delivery slots please contact us.

Frequently Asked Questions about Delivery
Do your prices include free delivery?
Delivery is free of charge if your delivery location is inside our drop-off zone (see map). If you are outside our delivery area you should contact us directly to enquire about delivery charges.
Do you deliver on weekends?
Yes, we are able to deliver on weekends for no extra cost unlike other companies. You will be able to choose any delivery day when you checkout.
Can I choose a delivery time?
Yes, we offer our customers a selection of delivery slots. These usually are as follows: 9-11am, 11am-1pm, 1pm-3pm, 3pm-6pm. Please note, some time-slots may not always be available, so please book in advance. Please call us on your delivery-day for a more accurate estimated time of arrival.
Can I pay cash on delivery?
Yes, but you will need to email us with your order or telephone us. We are able to take payments via Credit or Debit card. We do not accept American Express at present. Only Visa & Mastercard.
Can I order logs for same-day delivery?
Yes, but you will need to call us to arrange because we plan our delivery drops each morning.
How will the logs be delivered?
Delivery of logs in builders sacks is kerb-side using a van with a tail-lift offload. We can deliver to any location that is accessiable by our delivery van.
Do I have to be present when the delivery is made?
For cash on delivery drops, yes, however if you pay online or pre-pay, we can deliver your logs to your property or business when you are not able to take delivery. Please provide us with adequate information when you checkout. We are not held liable for any missing logs if you are not present when your logs are delivered.